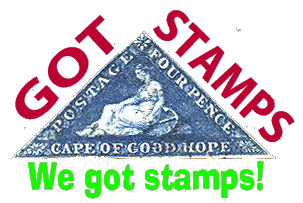 ---
Welcome to GotStamps
| | | |
| --- | --- | --- |
| |   | Thank you for visiting GotStamps, the website dedicated to the world of Postage Stamps. We here at GotStamps strive to make your interactions with us as pleasant as possible. We are always looking for feedback so please do not hesitate in providing us with some. |
Current Specials
| | | |
| --- | --- | --- |
| View our Current Specials. Good deals on nice stamps. Selection changes periodically. |   | |
One of our specialities here at GotStamps are the German States. We are always acquiring lots of material from this area. Come visit our room full of stamps and see if there is something for you!

Current special is Wurttemberg #46 Used. This stamp cats $1150 and is a hard one to find. Your price is just $300.
What is GotStamps
What does it mean to be the website dedicated to the world of Postage Stamps? It means that we here at Gotstamps love stamps! The founder of GotStamps collects stamps from all over the world, specializing in the German States and the classics from Europe, Scandanavia and Canada & Provinces.

GotStamps sells stamps online, via stamp auctions and on consignment. Also, GotStamps is always looking to buy collections/stamps, so please contact us if you have something you would like to sell.

If you have a want list please send your list to GotStamps and we will do our best to locate your stamps. We can only list a very small part of our inventory online and the inventory is continuously growing. We go to many shows and work with many suppliers so we WILL FIND any stamp that you are looking for.

A goal of GotStamps is to have a website that is fast enough to use! Use the index on the side of this page to help guide you through the web site. Stamps for sale have been broken down by area to help facilitate faster loads and quicker movement between pages. If you have any suggestions on how to make the web site faster please let us at GotStamps know and we will try to incorporate the changes.
Fun Stamps & Beginners
Not everybody collects the classic stamps or stamps for investments. Some people collect stamps to be used in arts and crafts. Others collect stamps because they are colorful or pretty. Some haven't even begun to collect. See how we can help you or a child get started in collecting or do some special orders for the fun side of stamps.


Forgeries: For Beginners and Advanced
Since the beginning of stamps, there are have been forgeries made. It may surprise you just which stamps are forged. Here is an article on forgeries that might interest any collector interested in the detection of forged stamps.
Scans of Stamps
| | | | | |
| --- | --- | --- | --- | --- |
| |   | If there is a stamp that you would like to see an online scan of, just send a request and a scan will be made available to you. |   | |
PNC: The New Craze
Do you know what a PNC is? Its the new craze in collecting. Learn more about them in the stamp news.
GotStamps Cares
We at GotStamps care about quality and satisfaction. We try and rate all stamps fairly and provide online scans to help you determine the visual quality of a stamp. However, sometimes this is not enough. If you are ever dissatisfied with a stamp you may return it for a refund or credit.
Whats Coming
This web site is always trying to be improved. Keep an eye out for some new changes coming. In the works is an ever changing page to discuss stamp related news. Also, a question and answer section is being developed. If you have any stamp related questions now is a good time to send them in.


---
stamps@gotstamps.com
GotStamps
California