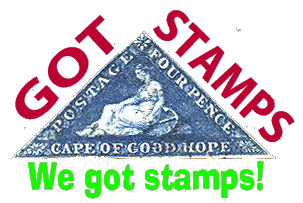 ---
---
STAMP NEWS
---
---
1-1-00 Cancel!!!
Letters Carried on a Float at the Rose Parade (limited supply remains)
Finding mail postmark on 1-1-00 is going to be tricky. Only a few post offices were open on this day. Here is a unique philatelic opportunity: A chance to own a limited edition postcard with a USPS sanctioned cancellation, dated 1-1-00, which actually rode on a Tournament of Roses Parade float, while at the same time helping the Cal Poly University Float Club.



Order one of the limited edition 2000 FLOAT MAIL postcards. These postcards, featuring the artists rendering of the 2000 Cal Poly Universities Tournament of Roses Parade float, were carried in the Cal Poly float down Colorado Blvd. in Pasadena Calif. on January 1, 2000 in the world famous Tournament of Roses Parade. These postcards bear the official January 1st Rose Parade postmark, and are individually numbered. The cost is only $6 which includes postage. Special display options are also available.

Inquire now about the 2001 Tournament of Roses Parade FLOAT MAIL postcards. Have your own personalized postcard carried on the Cal Poly float and then delivered to any destination you chose, bearing the first postmark of the new millennium! This will certainly be a treasure for any collection!

Actual 2000 FLOAT MAIL postcard is pictured on the right (not full scale). The design for the 2001 parade has not been finalized yet. As soon as the new cards are available a scan will be added here.

 

For inquiries or for orders please send email to GotStamps. Orders will be filled by the Cal Poly Rose Float Alumni Association a non-profit organization. There are a few remaining 1999 items left, inquire if interested in these as well.

---
PNC: What are They?
Have you heard this term flying around lately? Its a new craze in stamp collecting that is really gaining momentum, but do you know what they are? They have been around a short time, first one was printed in 1981. However, the future of this area of philately looks like it will be around for quite some time. In this short article we will give a real brief idea of what they are.

To start, it helps to know what the PNC stands for. Thats simple, it is: Plate Number Coils. While many collectors are familiar with plate blocks, this is the equivalent for coil stamps. Plate blocks are a block of 4 stamps (from a sheet) which contain the printing plate identifier in the selvage (margin) of the stamps. Each sheet has 4 plate blocks, one in each corner. Some plate numbers are very common while others are very rare, and the catalog value of a block number is in part reflected by the number printed.

A PNC is very similar to a plate block, except the printing plate identifier is located on the stamp, not in the margin, normally at the bottom of the stamp. The number may be printed on every 50th stamp in the coil, which is very common, or may not be printed except every 1000th (and sometimes more) stamp. PNCs can now be found in Brookman and Scotts catalog, as well as other more specialized catalogs which are dedicated to PNCs. One may find great price variances between different stamps ranging from under .50c to hundreds of $ or more. Part of the reason for this variance is due in part to how common, or often the PNC can be found on a roll. A PNC number found on every 50th stamp will typically catalog less than one found on every 5000th stamp (though this is not the only indicator of value).

The numbers that can be found on the various coil stamps vary almost as much as the stamps themselves. On many stamp, a single number can be found (typically stamps of one color), however the following types of numbers can be found as well:

1 (a simple number)
A1111 (A followed by a set of digits)
A 11 11 10 10 10 (same as above but larger digits)
M1111 (A followed by a set of digits)
S11 (A followed by a set of digits)
V1111 (V followed by a set of digits)

Stamps that contain more than one color will have more than one number, as shown in the table above. Each number represents the plate used in printing that color and the number will be printed in the color that it represents. As one can see by the short list above, the possible numbers is very flexible. In fact, some stamps may be found with a variation of numbers (depending on the number of printings/reprintings).

Collecting plate blocks was simple, they were collecting in blocks of 2. Collecting PNCs have a number of paradigms. One way is to collect them as single stamps either mint of used. However, most collectors, which collect them mint, feel that singles to do not really show off what distinguishes a PNC from the same stamp without the PNC. So collectors started collecting them in strips of 3, with the middle stamp containing the PNC. If you look at Scott's US specialized many of the early PNC stamps are listed mint as strips of 3. However, somewheres along the line, the trend moved to collecting in strips of 5, with the middle stamp containing the PNC. The more recent items in Scott are now listed mint in strips of 5. Since there are no rules to this, you the collector are free to chose how you collect them, but be prepared to buy them in strips of 5 if buying from many dealers.

While this article is not exhaustive on the subject, it was the intent to expose the reader to a possibly new and exciting area of philately. If you would like to learn more about the subject or if you are interested in starting a collection (or advancing your collection) please drop us an email and we will be happy to work with you.
---

US Semi-Postal
Thought you would never see that printed? Well its true. The USPS has issued its first semi-postal stamp ever. Semi-postals have been popular over the world for over 50 years. A semi-postal is a stamp issued to raise money for some cause. It could be to help a charity or organization (the red cross benefits quite a bit from semi-postals), to help finance a government project (sort of like a bond issue) or for any purpose the deemed appropriate by the issuing postal body.

The way semi-postals work is quite easy. A semi-postal stamp has 2 values associated with it, the first value is the postal value of the stamp. The second value is the amount to be given to the charity/project for which the stamp was issued. The values are typically represented on stamps as: 32 +8. The cost of such a stamp is 40 cents, where 32 cents can be used for postage and 8 cents will be donated.

The semi-postal issued in the US the first week of August was issued to help raise money to fight breast cancer. The 40 cent stamp is good for 32 cents of postage with the remaining 8 cents going to help find a cure for Breast Cancer.

Pictured here is the first US semi-postal.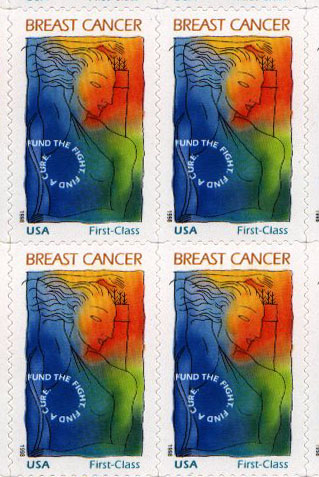 More USPS controversy?
Looking at the picture of the US semi-postal do you see any reason for controversy? Well there are 2 big complaints about the stamps. While many people think its a beautiful stamp and raising money for breast cancer research is a good thing people are upset that the stamp has no values posted on it. There is no value or charity value, it is just an implied 40c stamp. Traditional semi-postals have 2 values (as can be seen below) and many wanted the US stamp to be the same. What do you think?

The second point of contention is the fact that the stamp is a self-adhesive and can only be purchased in sheets of 20. Well GotStamps wants to dismiss this complaint right now. We ordered the stamp in both full sheets of 20 and blocks of 4.

So while there may be some controversy surrounding the stamp we at GotStamps think its a very nice stamp and we hope the money it raises does some good in the fight of breast cancer.
2 Interesting examples of Semi-Postals
Here are 2 examples of semi-postals.
| | | |
| --- | --- | --- |
| |   | This is a semi-postal issued in Poland while under German Occupation. So that means this is a German stamp, such that the charity portion of the stamp goes to Germany and not Poland. The other thing to notice about this stamp is that it originally was just a postage stamp and then later was surcharged in red with the charity value. In the case of this stamp, it has been surcharged +80. It was issued in 1940. |
| There has been a fascination with Nazi Germany stamps. Here is an example of a semi-postal picturing Hitler. This stamp was issued to commemorate Hitler's 52nd birthday. The surtax (or charity portion of the value) was for Hitler's National Culture Fund. Many of the Nazi era semi-postals were used to raise money for Hilter's National Culture Fund. |   | |

---
stamps@gotstamps.com
GotStamps
California