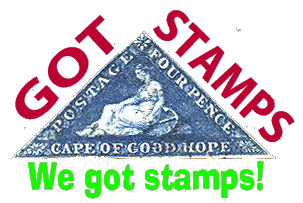 ---
Special Orders
No matter what your interests or no matter why you collect, GotStamps can help with your collection. We take special orders. A client was interested in the 6 souvenir sheet of the Doors from St Vincent (one pictured below is not full size). They have been advertised in the news paper and on the web for $55-$60 for the set. GotStamps got this set delivered in protector sheets for $40. Typically stamp offers you see in the newspaper or on the web can be greatly overpriced. We get these stamps at great savings and pass the savings on to you, our customer.
.

Another client was interested in any stamps that had pictures relating to the Grateful Dead. We put together a very eclectic grouping of stamps from 5 different nations.

One client wanted pretty stamps for arts and crafts. This was done with many stamps that she paid 1 penny each for.

Some collectors are very specific in what they want. GotStamps can help. One collector wanted anything that we could find from Iraq. We put together quite a nice lot of stamps and was able to sale them well below the catalogue value, including the interesting souvenir sheet pictured.
What do you collect? We can help and in many cases for less! Just let us know how we can be of service to you.
Kids and Beginners
GotStamps wants to make stamp collecting fun for kids and for any one new to the hobby. We have taken special orders from grandparents and parents to create a lot of stamps suited for young children new to collecting. These have been some of the best assignments we have ever gotten, as the future of stamp collecting depends greatly on keeping the young interested. Are you interested in helping someone get started? Let us help!
---
stamps@gotstamps.com
GotStamps
California